Extend Your Reporting & Analysis Options with the Stratum Power BI Connector
One powerful way that Stratum delivers insights fast is by making analysis and reports more accessible to analysts and others across the business. And if some of your analysts happen to use Power BI, they can easily gain access to Stratum information without having to know anything about the app!
Silvon's Power BI Connector offers simple access to core business data stored in the Stratum Data Hub – a modern data store used by thousands of businesses worldwide to transform, manage and report on information derived from countless numbers of sources. As a result, our customers can easily meet the varied reporting and visualization requirements of their Power BI users while guaranteeing a single version of the truth from wherever they access Stratum data.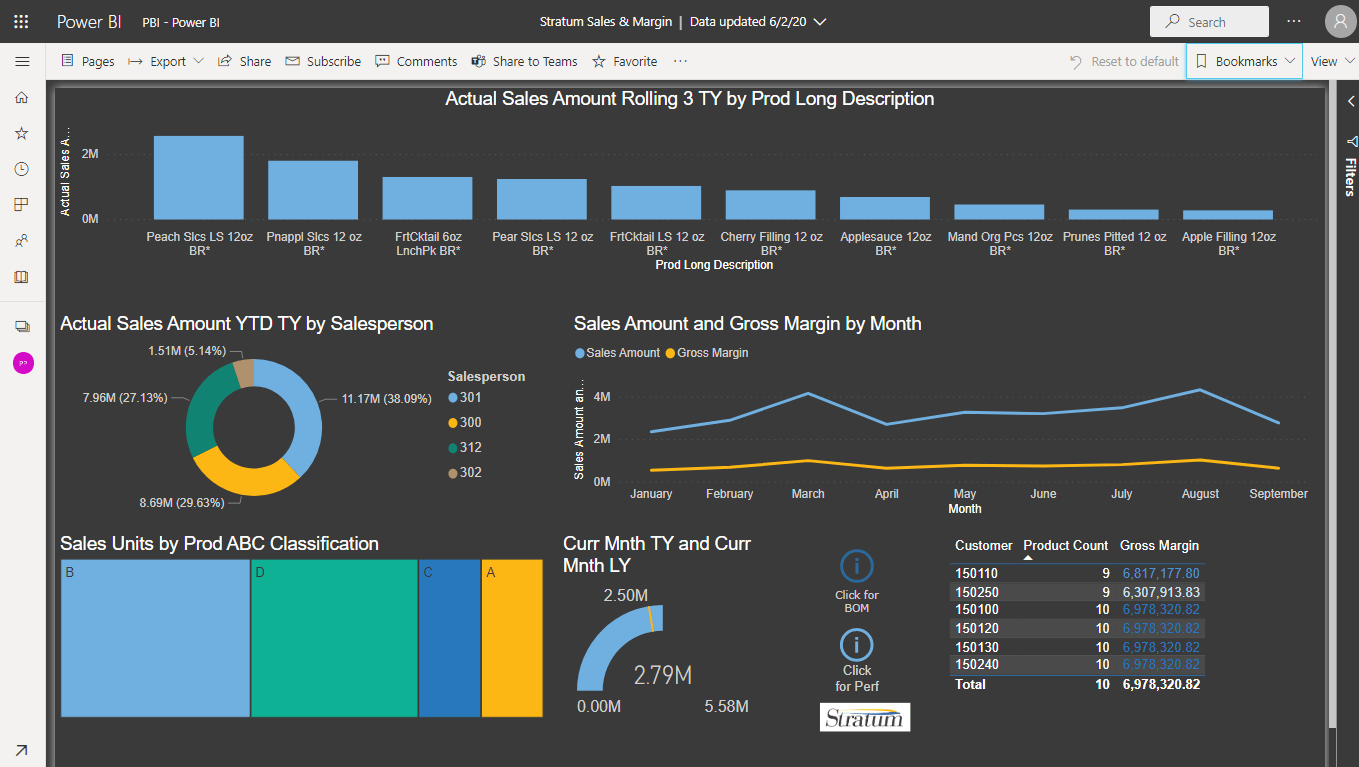 It's Super Simple. Your Power BI users do not have to be Stratum experts. They simply connect to the Stratum Data Hub and pick from pre-existing, user-defined Stratum reports to find the exact data desired for building their Power BI dashboards. It's that easy … really!
Move Seamlessly Between Stratum & Power BI. In addition to using Stratum data to feed their Power BI dashboards, users can take advantage of Stratum's Power BI drill-through capabilities and move seamlessly from their dashboards to their Stratum reports. This lets them see more granular levels of context that can help drive better, fact-based decisions and a more profitable bottom line for the business.
Explore Content Securely in Stratum. With robust security options built in, Power BI users are only able to see the Stratum data they need access to. This ensures complete data governance while protecting the integrity of all Stratum data that can be accessed by Power BI.
Guarantee Single Version Of The Truth – Having the ability to fuel your Power BI dashboards with the same data used by Stratum provides better reporting accuracy because everyone who accesses Power BI (or other apps like Excel and Stratum's own dashboards) is working with the same enterprise data. Easily marry up disparate data sets and trust that the information everyone sees in their Power BI dashboards is complete, consistent, and accurate because it's managed by the Stratum Data Hub.